When your walls feel blank and lacking character, or you want to give your home some panache, wood wall paneling might just be the answer you're looking for. With different types, finishes, and designs to choose from, you can create a space unique to your home that you and your guests will absolutely love. Below are some of the most common types of wood paneling and where they can be best applied in your home.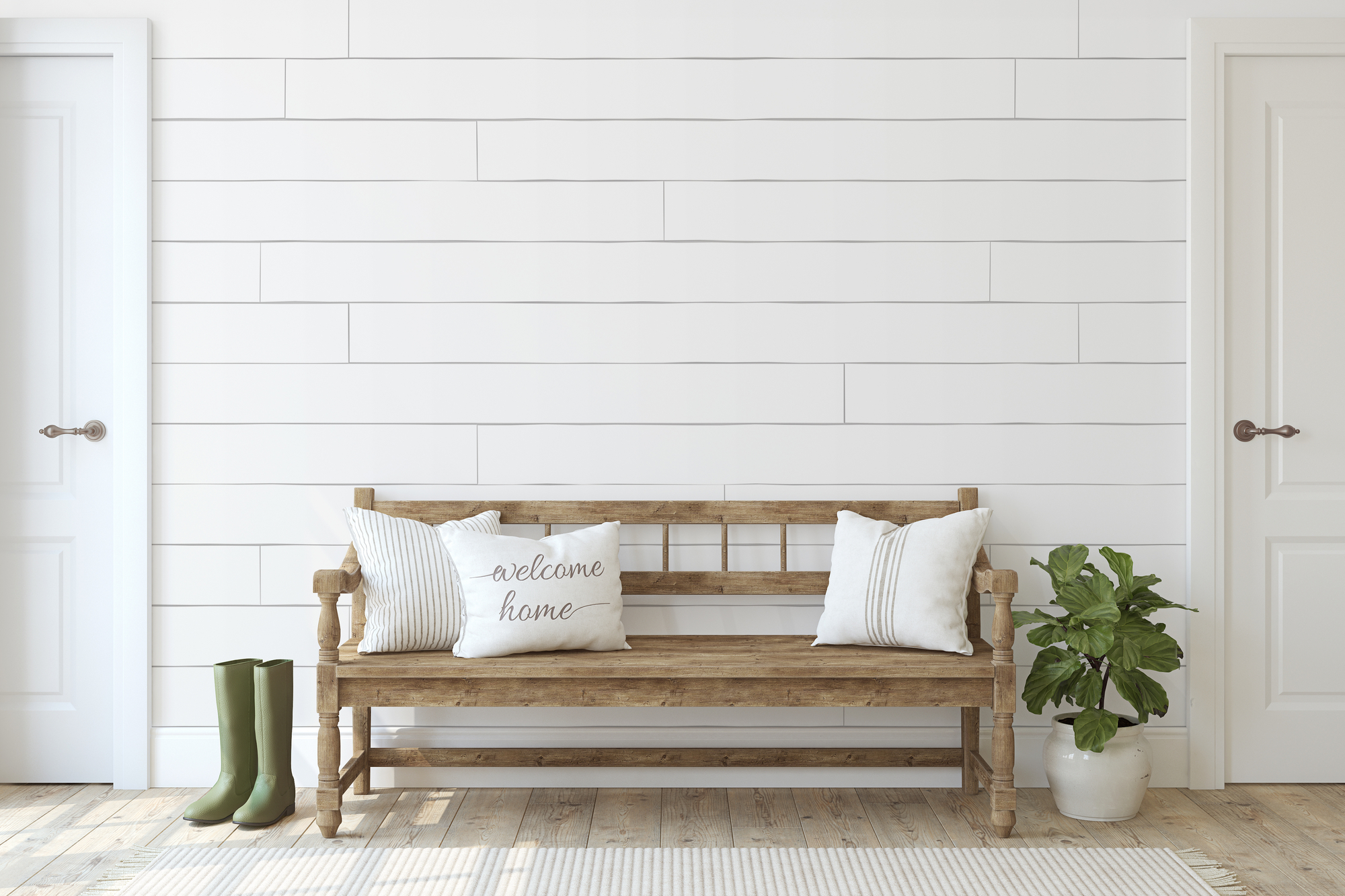 Shiplap Wood Paneling
From boats to homes. Shiplap was a style originally used while building boats in the 19th century, but has since become a very common style of wood wall paneling; most often seen in country-style homes. Because this style uses a rabbet cut joint – meaning they have grooves in the top and bottom of the boards that overlap when put together – these panels fit together snugly and create a very smooth, aesthetic look.
This type of paneling is most often seen in Kitchens and Half-Baths. But, because of their cozy, rustic style, it's not uncommon to see them in areas where people want to feel at home. This includes Hallways, Laundry Rooms, and Mudrooms!
Tongue-and-Groove Style for Walls
One of the most popular types of wood wall paneling is tongue-and-groove. Though very similar to the look of shiplap, these panels have a different installation process. Which, you may have guessed, is called tongue-and-groove. To connect, these panels have a notch that sticks out of the center (tongue) on one end and an indentation on the other (groove) end which the notch fits into.
The biggest factor when deciding between shiplap and tong-and-groove paneling comes down to the climate of your home. If your home is prone to getting hot with low humidity, the wood may shrink and lead to a noticeable gap with the tongue-and-groove planking. While this most likely won't show up in shiplap. Alternatively, if you have poor insulation in your home and find it often cold, tongue-and-groove paneling tends to insulate better than shiplap.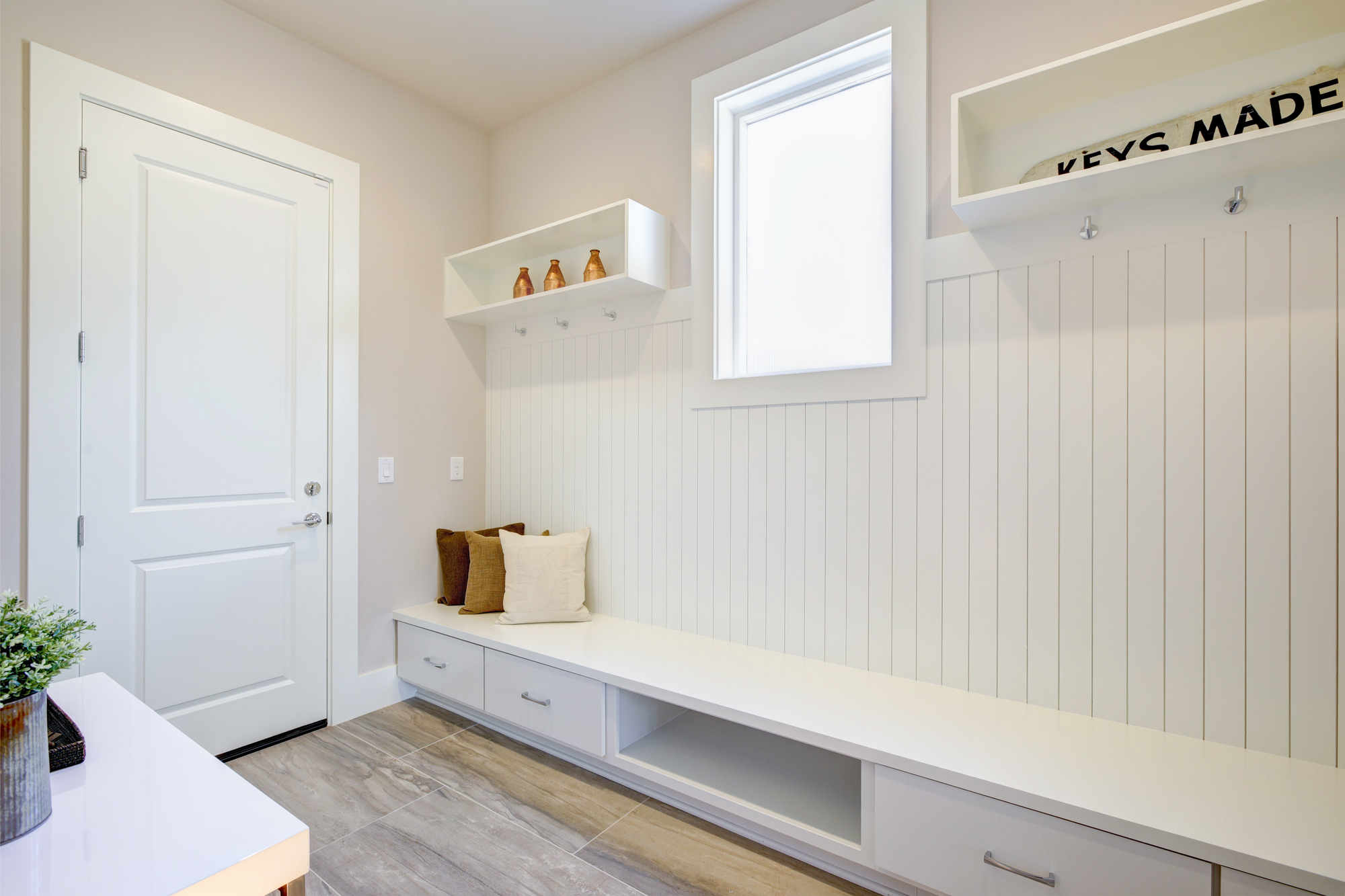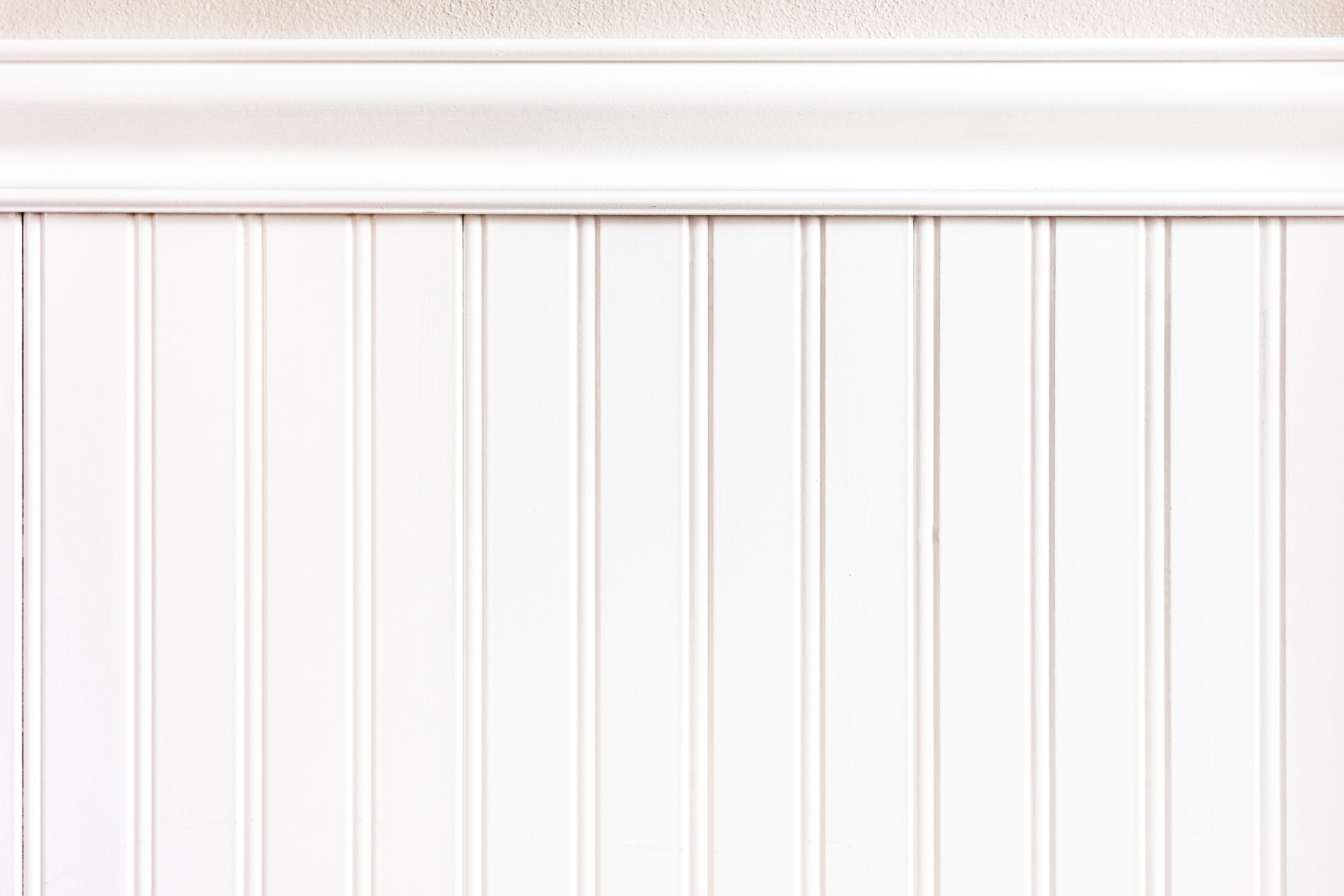 Beadboard Paneling
One of the most versatile types of wood wall paneling. Breadboard is available in a number of different styles, designs, and sizes. The typical Beadboard style is narrow strips of wood with a thing ridge that separates each. The thing ridge is called the "bead" – hence the name beadboard. This style is a type of wainscoting that is installed vertically on a wall. Though it's not out of the question to have an entire wall with the Beadboard paneling, the most common way is to apply it around 36-42 inches tall with a chair rail at the top and baseboard at the bottom.
The best placement for these wooden wall panels in your home tend to be kitchens and bathrooms. Thsi is because they are durable when it comes to moisture and humidity. Beadboard also looks best in casual or rustic areas including areas that are indoor-outdoor such as mudrooms or closed in patios. All that being said, most people shy away from adding it to a formal area such as the dining room or a formal entryway because of their relaxed vibe.
Raised Panels for Intricate Walls
Richly detailed raised panels were a common type of wood wall paneling in homes built during the colonial era. Raised Panels are made with a decorative bevel in the center. While these panels are also most commonly installed between 30-40 inches in height, it doesn't always have to be that way. In fact, some people will double up their raised panels to go 2/3 up their wall or, in some cases, cover an entire wall!
The biggest draw to them is the intricate style and easy customization for any home. Making them perfect for formal areas such as dining rooms, offices, or libraries.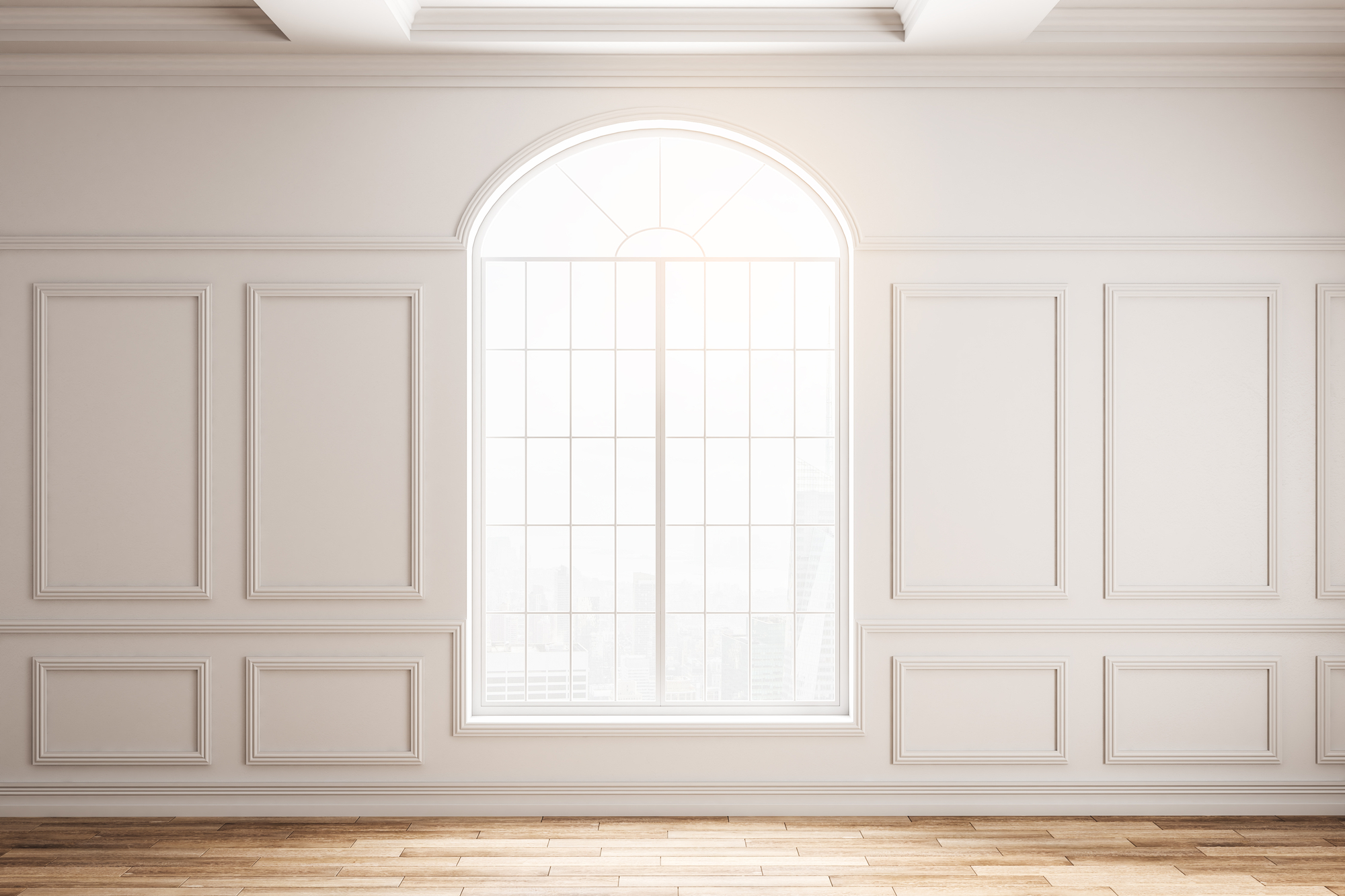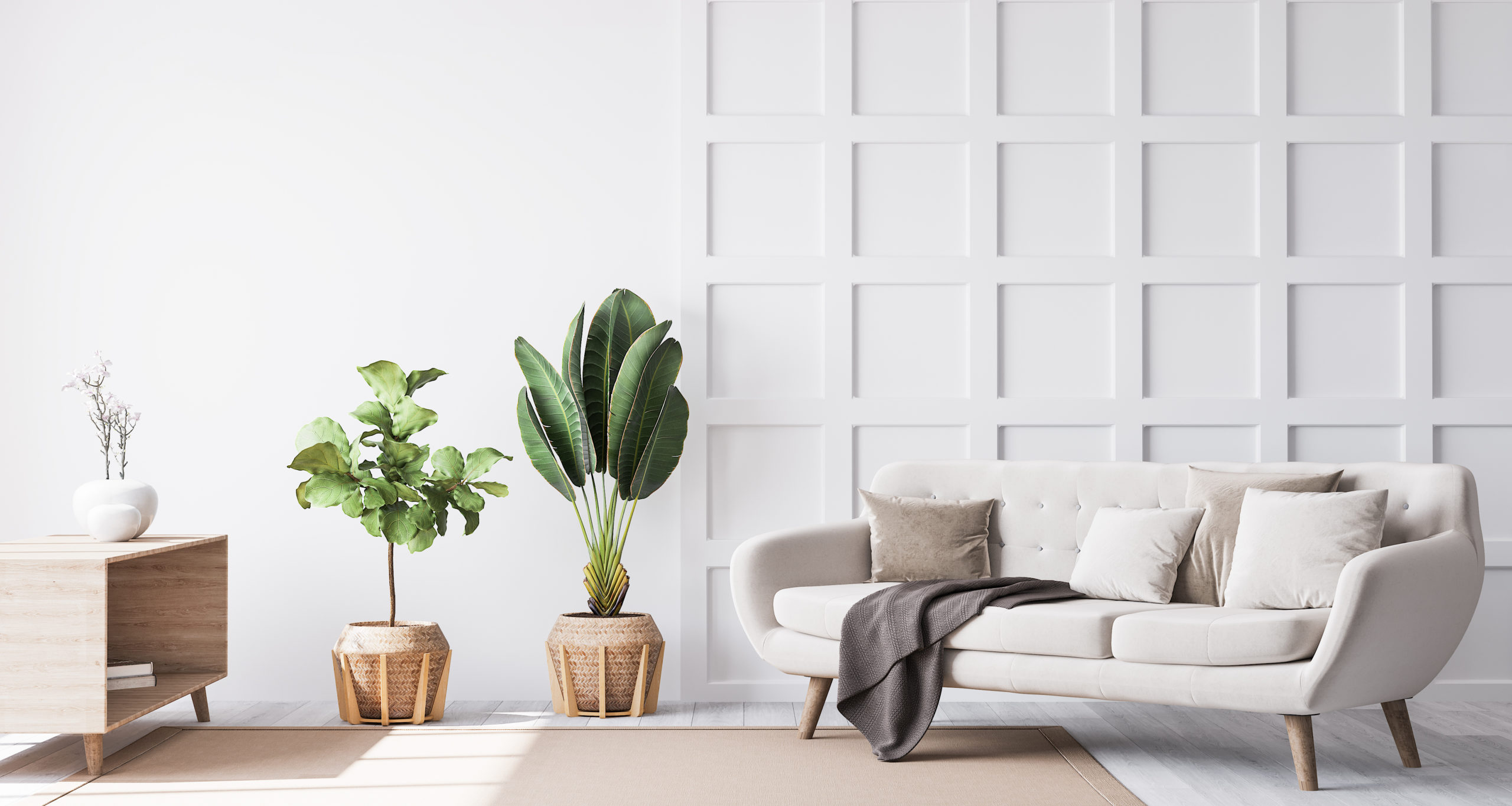 Board and Batten Wall Paneling
For anyone looking to add depth and character to a room, the Board and Batten style is the way to go! This type of paneling was originally created for creating stronger and better insulated homes. But, in recent years, it's become a go-to for interior design as well! From wainscoting to full walls, Board and Batten paneling can be applied to your home in a large variety of unique ways.
So, let's get into it. What is the board-and-batten style? In it's most traditional form, this is an alternating pattern of wide boards and narrow strips (battens). The boards are typically a foot wide while the battens ten to be half-an-inch wide. BUT that's not the hard-and-fast rule. These sizes can vary depending on what looks best for your space and personal preferences.
You may be used to seeing the board and batten style at a half or two-thirds height. Most often placed along the stairs, next to a fireplace, or in bathrooms. But many people have started adding this style as a full accent wall to bedrooms, office spaces, and even in living rooms! The possibilities are truly endless when it comes to this type of wooden wall paneling.
Transform Your Home Today
Have you found the style of wood wall paneling you want for your home? Or maybe you aren't quite sure yet and would like to talk to an expert to figure out what would be best for your home? Either way, our team is ready to help you create the home of your dreams with our custom millwork. Contact us today to learn more about our process or get started transforming your home – We can't wait to hear from you!